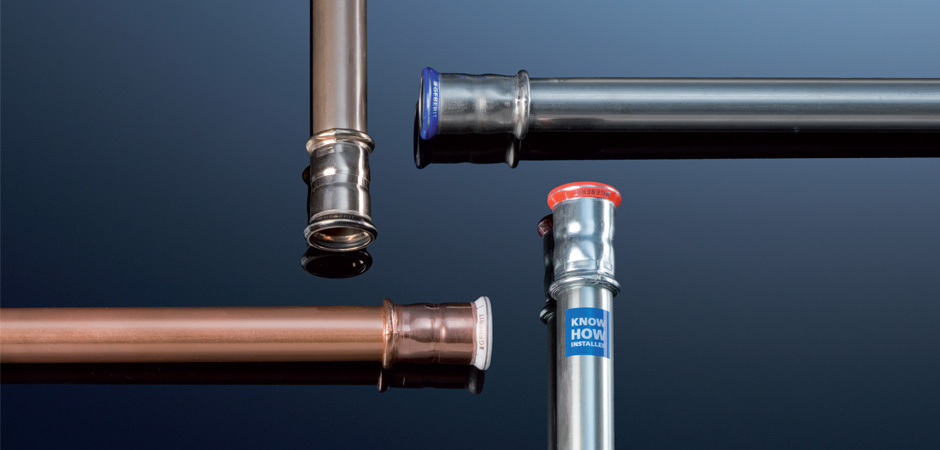 Pacific Pipe & Pump Press fit Piping Solutions by GEBERIT
GEBERIT Press Fit – MEPLA
The Geberit Mepla multilayer pipe system combining the advantages of synthetic and metallic materials. This enables fast work progress and no hotwork. Mepla can be used flexibly and quickly and is permanently leakproof.
GEBERIT Press Fit – MAPRESS STAINLESS STEEL
For the highest quality and safety demands
From safe drinking water supply to complex supply systems in industrial applications and extremely critical installations, for example in hospitals or hotels – Geberit Mapress Stainless Steel is the right choice for all sanitary projects with very high demands. With its fittings and extensive range of piping materials, the system is also suitable for transporting service water, compressed air, gases, chemicals and many other different media in addition to its use for safe and reliable drinking water installations.
GEBERIT Press Fit – MAPRESS COPPER NICKEL
The Geberit MapressCuNiFe pipe and fittings are available in the dimensions 15 to 108 mm. Fittings and pipes of this special alloy are recognisable by their bronze-coloured shimmer. The black seal ring has been approved for contact with salt water; in special cases – such as in combination with media containing oil – the black seal ring is replaced by a blue FKM seal ring.
As with all Geberit Mapress systems, a pressing indicator shows whether the fitting was correctly pressed. Its black colour indicates the material CuNiFe, and the dimension is also easily visible.
Typical pressfit industrial applications:
| Mechanical engineering | Automotive industry | Chemical and pharmaceutical | Shipbuilding | |
| --- | --- | --- | --- | --- |
| Process, cooling and deionized water | Process, cooling and deionized water | Process, cooling and deionized water | Drinking water pipes | |
| Compressed air | Compressed air | Compressed air | Heating and cooling | |
| Industrial gases | Industrial gases | Industrial gases | Engine room systems | |
| Technical liquids | Technical liquids | Fire extinguishing systems | Salt water pipes | |
| Fire extinguishing | Oils and fuels | | Fire extinguishing | |